COLUMBUS, Ohio, Dec. 1, 2020 – IVX Health, a national provider of infusion and injection therapy for patients with Crohn's disease, multiple sclerosis, rheumatoid arthritis, and other complex chronic conditions, today announced the opening of its third center in the greater Columbus area — conveniently located in Grove City.
IVX Health offers patients an alternative to hospital-based infusions – with the same high-quality standards and safety protocols. IVX Health reimagines the traditional experience for infusion patients with amenities such as flexible scheduling and guaranteed private suites that allow for proper social distancing – a meaningful benefit when considering the often hours-long infusion procedures.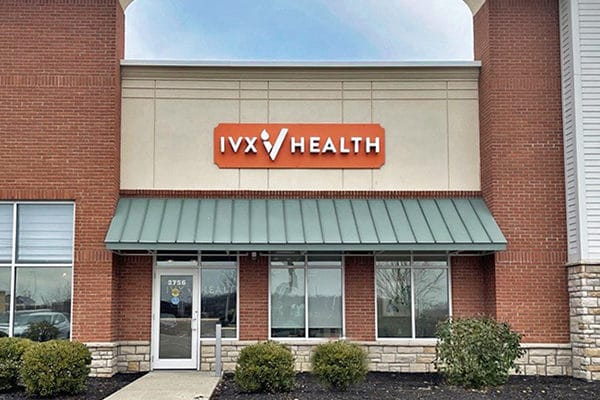 IVX Health cares for those with a wide variety of autoimmune disorders such as Crohn's disease, ulcerative colitis, rheumatoid arthritis, multiple sclerosis and other conditions. In Ohio, over 100,000 patients suffer from Crohn's disease or ulcerative colitis—many of whom are young and active members of their community.  IVX Health makes it easy for patients who need routine infusions to get treatments scheduled in a comfortable environment near work and home.
Stand-alone centers, no waiting rooms, private suites, and visits by appointment only are just a few of the ways IVX Health aspires to provide the safest possible experience for its patients. Each IVX Health center is staffed with a nurse practitioner and a team of registered nurses which never exceeds a 1:3 nurse-to-patient ratio, ensuring every patient receives the personal attention they deserve. In addition, IVX Health offers patients a superior level of service—with flat screen TVs, high-speed Wi-Fi, complimentary snacks, and flexible appointment times that include evenings and Saturdays.
"It's amazing the steps they're taking to make me feel comfortable to come out with my compromised immune and be able to get my infusion," said Regina Morris, an IVX Health patient in the greater Columbus area. "The staff is absolutely amazing and the rooms are exceptionally awesome because they're private."
For more information on IVX Health or to schedule an appointment, please visit their website.